Moisture sensors for coffee beans
05.05.2017 | by Michael Stoll
Realization of continual quality monitoring of coffee beans by implementing a moisture measurement in the automated bags loading- and unloading system "Copal - C2 bags handling line". Four moisture sensors detect the water content of coffee beans instantly. Immediate outward transfer of the jute sacks with high moisture values.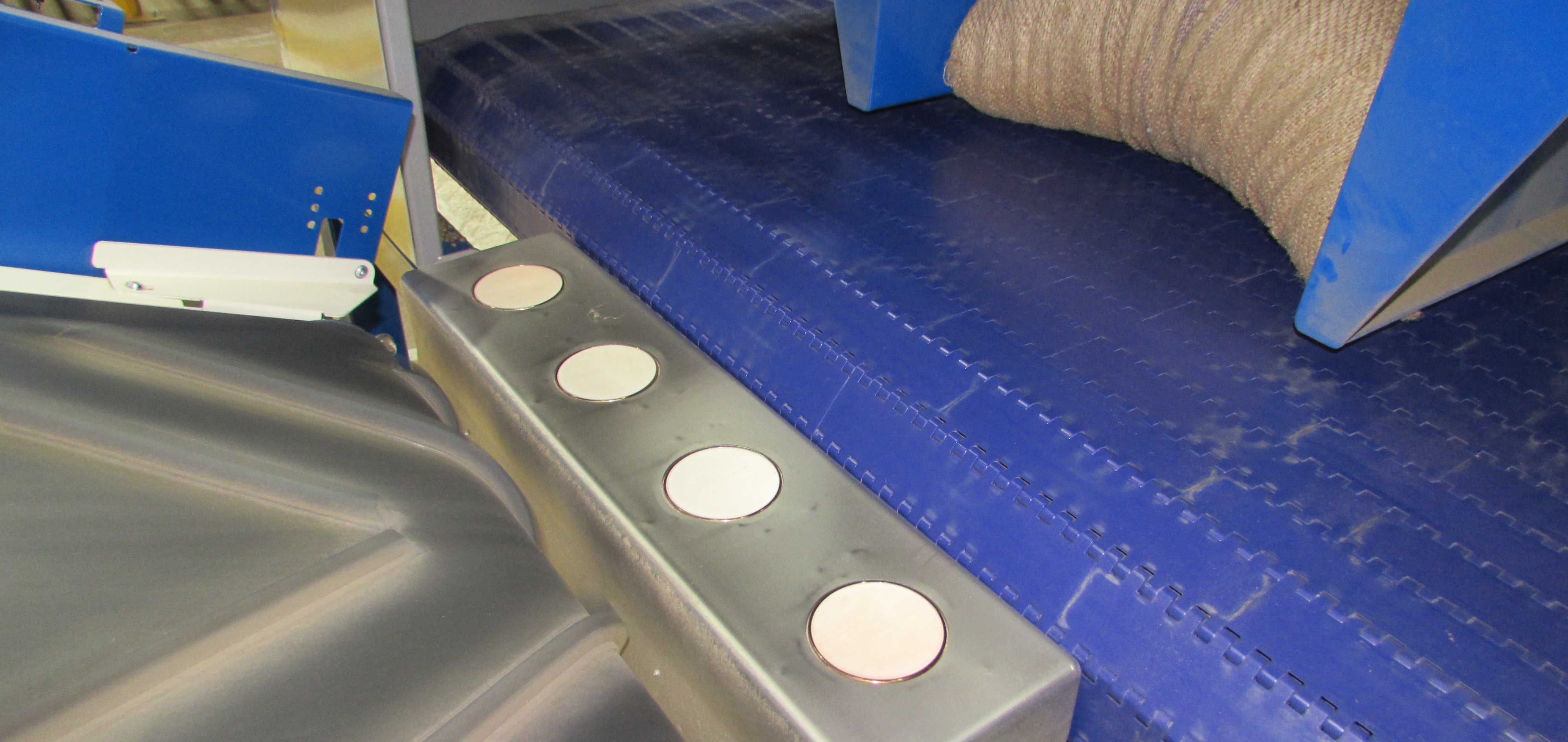 Intention of realizing a Load- and Unloading System with integrated moisture sensors
Nestlé, the largest food company in the world and leader in the field of nutrition, health & wellness has given a new input on their motto "Good food, good life". While Nestlé has plants all over the world and in almost every country, they feel highly responsible for the welfare and wellbeing of their employees. Creating Shared Value (CSV) is not something that is not meant to look good for their stockholders, it's a responsibility they take very seriously. One of the top priorities is keeping the people healthy and save.
For this reason they have been looking for a solution for a worldwide problem: heavy physical work of manually unloading of bags out of containers. The plant where they wanted to take the first step, in automatic unloading and palletizing, is the coffee plant in Mexico. Here, enormous amounts of bags with coffee beans, with weights between 60 and 70 kg, are unloaded, checked and palletized every day.

How to measure the water content of coffee beans?
The used sensors operate on the capacitive measuring principle. The penetration depth of the stray field capacitor is about 150 mm. Based on the major difference of the dielectric constant between water (about 80) and coffee beans (about 3 ... 10) the moisture measuring unit is able to detect the water content right through the jute bags. Those with a high moisture level are sorted out immediately.

This new generation of moisture sensors is suitable for many other bulk solids (such as sawdust, sand, cocoa beans) and different kind of granulates, powders and pastes. The moisture measuring sensors can be calibrated easily by a calibration software.
Intelligent Load- and Unloading Systems supported by moisture measuring devices
Nestlé decided to commission Copal Handling Systems, located in Heerenberg (NL) to solve the issue. A fully automated jute bag unloading system should be developed and produced:
detecting the water content of the coffee beans
bags with an high moisture level should be sorted out
automatically taken probe of the coffee beans for quality check
palletizing the jute bags
Project Cooperation - Copal C2 Bags Handling Line
Due to the interwoven cooperation of the four companies the ambitioned goals could be reached successfully:
Copal Handling Systems develops and manufactures container stripping and palletizing systems. This unique and innovative design has been upgraded to a system which can be operated by just one operator, unloading the container, positioning the bags, detecting the moisture content, taking random samples and palletizing.
ACO - Moisture Measurement Systems developed a new generation moisture measuring sensors which combines approved measuring systems, long-term experience and close cooperation with clients: the AMMS sensor. With this new Analogue Moisture Measuring Sensor ACO offers a compact sensor suitable for nearly all bulk goods, granules, powders, mixtures, paste-like materials and substances from various industrial fields.

This most convincing high quality sensor is equipped with user-friendly calibration software which makes online configuration possible. For this application the moisture sensors detect if the bags are wet or moisturized. If moisture has been detected, this bag will automatically been taken out of the palletizing process.
WEMO Techniek has developed a sack sampler for taking samples from jute sacks. This solution has been successfully deployed in various locations. Samples are taken, automatically and entirely at random, from passing sacks filled with products such as coffee or cocoa beans. A specially designed needle was pierce into the jute bag. A pneumatic transporting system sends the material sample to its receiver.
SYMACH In a world where time is money and an efficient logistics chain generates money, the SYMACH palletisers can make the difference. With custom-built solutions, SYMACH takes into account the needs of its customers. Our palletisers operate in various industries, from agricultural to industrial, food and chemical industries. In these lines the palletizing is done with an accuracy of 1 mm.
Moisture sensors for coffee beans:
Further application examples for moisture measurement sensors in the food industry: